Currently Accepting Deposits for Fall 2017 Kittens!
Welcome to Iowa Kurimski Bengals!
We fell in love with the Bengal 6 years agao when we got our first pet and have been breeding Bengal kittens ever since. We have raised over 100 Bengal kittens and enjoy placing our kittens in loving homes. Currently, we specialize in brown/black rosetted Bengal kittens with large rosettes and lots of glitter. Our bengals are 100% pure bred, and TICA registered as SBT Brown (Black) Spotted Tabbys. We have about 4 litters per year. Our Bengals go back and fourth between our home and our kitten building. We love our Bengals and treat them as family members. Our kittens are very playful, loyal, curious, friendly, healthy, and loving! We have had great success placing our kittens into homes with other pets and children. We would love to help you find your new companion. Please check out our available kitten page to see if we have what you are looking for.
Taking home your new kitten...
We take the health of our bengal kittens very seriously. Here we are FeLV (feline leukemia), FIV (feline aids), TTF (tritrichomonas foetus) free. It is true that you can find cheaper Bengals elsewhere, but they will not have as vivid of colors and may not be as healthy. Our kittens are fixed at 10 weeks of age and go home around 12 weeks of age. Our kittens come with TICA registration paperwork and a pet contract guaranteeing the health of your Bengal kitten from congenital disease for 1 up to year of age. Kittens will be current on vaccinations (distemper) and deworming.
Pricing & How it works...
Our Bengals seem to be pretty popular and will find homes very fast once pictures of the kittens are posted. I encourage you to place a deposit to ensure you will get the kitten that you want, when you want it.

​Prices of our kittens range from $1200 - $1500 (cash) and are adjusted as the kittens markings develop. Pictures and prices of kittens will be posted at 4 weeks of age. Kittens are ready for their new homes at 10 to 12 weeks of age. Kittens will be held by a deposit of $200 only. Deposits are non-refundable. Kittens will be picked out in the order deposits were received (unless a breeder is interested or we decide to keep one). We will notify you when it is your turn to pick out a kitten. If you are not interested in any available, you can always wait for the next litter of kittens to be born. Your deposit will not expire. Check back often for updates! If you have questions or concerns please contact us. We look forward to helping you find your very own special family member, thank you!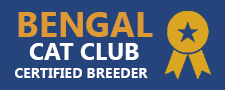 Now accepting deposits via PayPal. Deposits are Non-Refundable. Please add 3% when using PayPal.